Get Instant Cash from Local Car Wreckers
We at Carwrecker.melbourne provides local car wreckers most of the regions in Melbourne Australia. There are biggest network of Melbourne suburbs for car wrecking with all sort of services. Once you decide to take a look in to any kind of car removals, you must visit us for better pricing. Our company is offering the best way of communication online where we solve your 60% queries and guarantee for maximum cash up to $8999. However, if you are dealing with someone else and feeling that quoted prices are not same which you're looking for.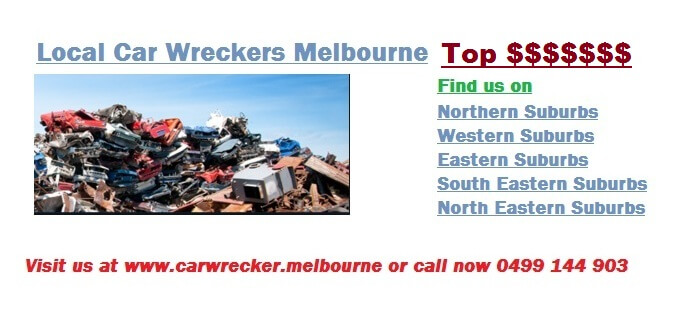 We most welcome in that condition as well. Don't hesitate and let us know that we got a quote for my car. But I am quite worrying about the offered prices and looking around the figure whatever in your mind. Our team will try to beat the given quotes. It's not only for car wrecker business also cash for car, car removals as well as one of the biggest dealing sector in commercial vehicle as well. Truck, buses, vans are also the same way for wrecking now the part of our business.
How local car wreckers work?
It is the Geo based services once we get the quotes will find out nearest office to you. Your request sends to our physical location which is very close to your home or business location for quickly response. Kindly check our locations here and we are sure that you must be available in under these locations because our covering locations are almost in whole Melbourne.
Our Local car instant car dismantle services are-
Local car wrecker Melbourne
Local car removals Melbourne
Cash for car Local Service
Local scrap and junk car removals
Second hand and old car removals local in Melbourne
Easy way to find instant cash by three steps-
Most of the time the whole procedure works in three steps which are Contact us-We come to your place and final the deal- Get your cash right away.
Way of connecting to us-
There are several ways to getting in touch with us online. People can either dial a direct line number for our customer services which is 03 8658 1792. Also another way just visit us www.carwrecker.melbourne and put your details in query form. So we could arrange a call back for you or write an email info@carwrecker.melbourne
Paper Work that we require
Paper work is mandatory as per government norms for car removals industry. However, the part of paper work is not too complicated from customer end. Moreover, there will be two major documents ID Proof and Registration of Vehicle need to carry and further verification steps and all will be done by our end.